The base of chair makes a big and safety space "U" style design which to protect baby climb to the chair. "U" style base doesn't have any chair's claw to hinder baby close the chair and sit down by themselves. Let's make "Enlightening chair" with parents together to be witness baby can walk and sit sown chair.
Ergonomic design
According to human ergonomic "S" back plate. "S" shape of back plate can support user's lumbar and waterproof seat cushion will not against blood circulation.
Safety angle bone design with lockable holes in each height.
Right angle of backbone design is very important to have strength hold seat cushion when user sit down. There will more strength when knob lock into holes.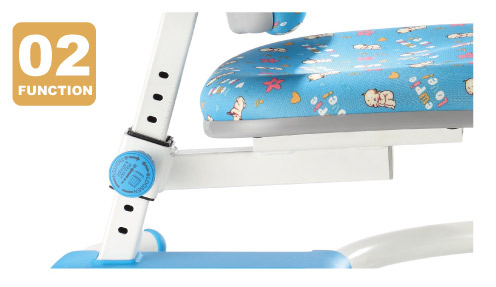 Free to adjust height you like
The lowest height is 24cm great to choice it for preschool child.
Carbon steel
Main bone made by carbon steel which with the flex and hard strength. The shape "<" bone can be extend the seat following the different height User.
Breathe cushion
HR foam with high density material. Keep the shape of style even sit longer.
Activity back instruction
A very good back active and support child's lumbar.
Chair base with a design Barrier free space
Remove claw of leg in front of chair in order to make young child come to sit.
High quality fabric
Against water, grinding and color changed with BIFMA.
Customize small wheels with Lock and unlock function
Easy to turn on switch with lock or unlock wheel, toward child study focus.
Model:K639
Material:Medium carbon steel, High density styrofoam, eco-nilon
Fabric:Blue
Whole chair dimension : W56 x D57 x H76 cm
Seat cushion dimension : W43 x D40 cm
Back cushion dimension : W36x D36 cm
Height of seat : 24~48CM ( +2cm )
Extend of seat : 25 ~ 39CM ( +2cm)
Origin:Taiwan