Do you always want something "special" in your routine life? You can't so you have to use the
goods in hand.
You wanna be characteristic.
Chair is a kind of characteristic and art. It represents your personal style and taste.
You are the character, and chair is your decoration.
So you have the right to choose your favorite one!!
Ergonomically Design
Innovation structure: Aluminum alloy one-shaped back tube can be adjusted by users.
6000 series aluminum: corrosion resistance and strength. 7 processing ways use low temperature sulfuric acid electrolyte to process anodic treatment. To make the surface prefect and antioxidative, we do hair-line surface treatment before anodic treatment.
Innovation high quality DuPont PU thick foam. High tense with one shaped design.
User-Friendly Operation
Back tube can be expansion. So it can be placed under desk to save space.
Use CHINA STEEL oval steel material to design oval back tube. Oval steel material is the best quality one among all round tube or square tube. (maximum flexure and strength)
Safety Standard Endorsement
Safe chair leg: DuPont Nylon plus weight fiber. One-shaped injector, highly strength. Pass BIFMA 2500 ponds breaking test.
Chair fabric: California 117 fireproof test
Pass SGS 5 grade Color fastness, U/V proof test
Pass SGS 5 grade Bursting Strength test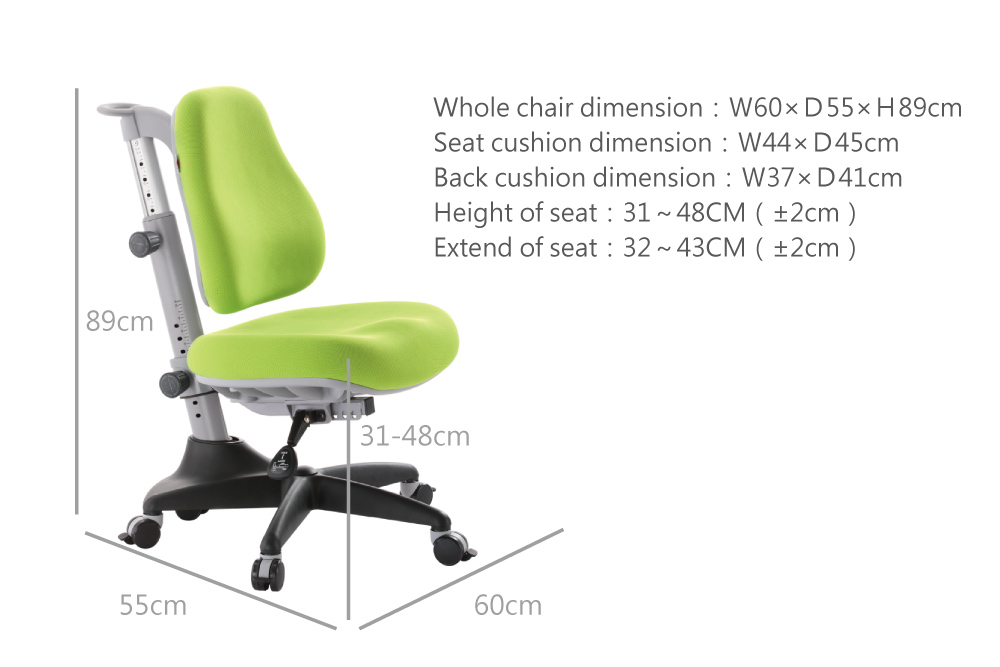 Model:Y518(Patent Number M409763 & M413404)
Material: Medium carbon steel, High density PU styrofoam, Senior Aluminium, Non-toxic EO glue
Fabric:Green/Orange
Size:W45*D55*H89cm
Adjustable Height:31~48cm(+/-2cm)
Origin:Taiwan