Triangular chair, the idea from designer Mr.Chen, memory of childhood, playing building blocks.
As triangular sign is the basis polygon. Children always like to play it and use simple one to make many different shapes, like build a car or a house. You unable to image that children go thought the study of triangle, and can make incredible shapes better than adult play it.
It makes the designer follow his childhood memory to design triangular chair. To combine 8 pcs of triangle shapes with industry technical and create this triangular chair.
Double Resilient system

General chairs may have loading weight, but do not have great spring when user sit on it. When user sit down chair may feel like sit down on the stone, chairs are very hard and uncomfortable.

"Triangle chair " by COMF-PRO brand is the new design in 2016. Create special materials and spring system to control the whole chair. When user sit down at the moment, triangular chair can adsorption the vertebra impact force when use sit down. It can be reduce the pressure of sciatic nerve.

Beyond that, the double resilient system can help user sit longer and comfortable to stretching. People usually extending a limb or change their posture in every 15-30 minutes. When user rocks their upper body, especially waist, the spring system can suddenly resilient. So far, it improve the comfort index.

Equilateral triangle of chair's frame plays a great supporting force
Most people think that covering is the size of the back cushion itself. In actual fact, the most important is the design of the chair frame.

Triangular chair consists eight pcs of equilateral triangle that can have great endurance and better than any other shapes. Any shape may deformed by the force, there is only triangle can be firm. The back frame designs according to equilateral triangle that hold on the back cushion unable to deform or crooked. It improve the chair has a great supporting force and help user concentrate to study.

Ergonomic design
Ergonomic back cushion via "S" shape of vertebral and waterfall seating reduce the pressure of waist and buttock.

High density breathing cushion
PU high quality density foam can used longer and unable to deformed.

Adjustable height freely
Following the height of growing children to adjust the chair's back and seat. It not just adjust its height but also adjust dept of seat makes a great supporting to different body of children and avoid any of humpbacked

Dept of seat extending from 2 years old
The depth of seat can following kids body to adjustment

Automatic back supporting design
Moveable back always support user to sit down to the correct sitting posture.

Triangle frame with Medium carbon steel
The back frame make by medium carbon steel which has best ductility, toughness and strength. Combine triangle shape to adjust the chair's height.

Safety lockable casters
Locking and unlocking wheels to match demands. Making children concentrate studying.

High loading weight of base
The base has pass the SGS loading standard. Children can safe to use.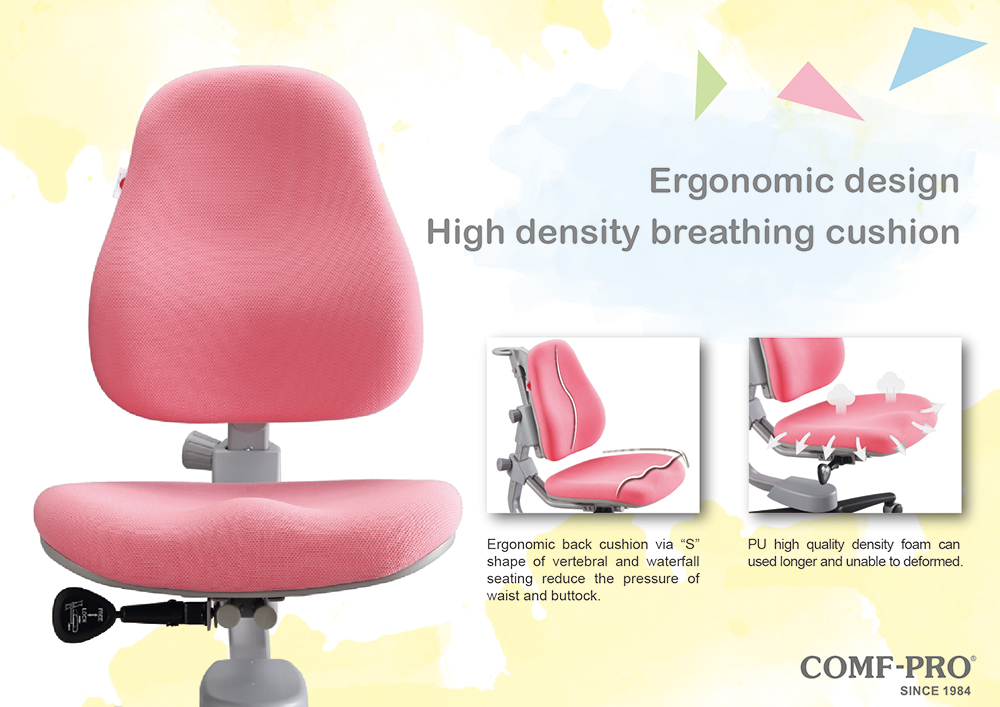 Model:Y918
Material:Medium carbon steel, High density PU styrofoam, Eco-nilon
Fabric:Pink / Orange / Blue
Size:W61*D75*H73-85cm
Seat dimension:W44*D45cm
Back dimension:W38*D41cm
Adjustable Height:33-48cm
Origin:Taiwan