Purely desk
A technology oriented, COMF-PRO ergonomic desk made via a technology oriented and slowly with fine workmanship.
Health wood with EO glue of formaldehyde.
Eo glue is the fewest formaldhype requires using in hospital furniture, E1 is the standard of home furniture. Protection each children's health , COMF-PRO use the highest standard, E0 glue desktop,desktop and edge with high quality protect , water resistant, Flame resistant, wear resistant and scratch resistant.
Gas lift adjusts higher with the operation
Height adjustable: 50.5~76.5cm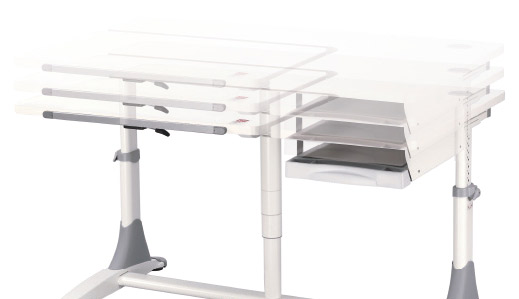 Gas lift in center make adjusts be more higher, full desk simultaneously adjustable is up or down, using effortless. Improved control base,adjust higher more quickly 、 stable 、safety !
Double safety switch
Adjust height of the desk, have to untie 2 safety switches -Control Switch (under desk) & safety switch (desk base), then easy to adjust the height, double protection mechanism, give child double protect!
L shape desktop fully use free space
Desk front setting bookshelf, create storage space, front right side fit to set computer, right platform can place more items, match with hidden wire cover, elegant and aesthetics.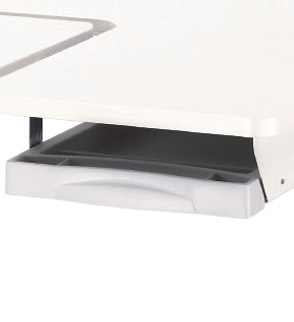 Thicken Desktop
Use 2.5cm thickness Thicken Desktop ,more stable not deformed.
Freely tilting degree -5 sections choose
Sitting posture remind design.when user's body lean on desk,desk will auto tilting,remind the user have to adjust the body ,sitting well on chair,any time -no repress the neck,no humpback.
Adjustable bracket design
Tilting bracket,elasticity design,small & delicate,no occupy space.
Drawer in side
Stationery housed in the drawer , create more conveniences,collation more easy! Freely optional! The cabinet will increase more space for storage.
Ergonomically Design
The desktop scratch against, easy clean and SGS loading test.
Synchronized adjustment for the height of the table.
Streamlined Base.
User-Friendly Operation
0~29 angle adjustment good for writing, reading, painting, and typing.
Safety Standard Endorsement
Streamline base makes by HR steel support the desk stable.
Model:UR4
Table Color:White
Base Color:Gray
Size:W120*76.5cm
Height:52~75cm(+/-2cm)
Tilting t:0~30degree(+/-2cm)
Origin:Taiwan