Health wood with EO glue of formaldehyde.
Eo glue is the fewest formaldhype requires using in hospital furniture, E1 is the standard of home furniture.
Protection each children's health , COMF-PRO use the highest standard, E0 glue desktop,desktop and edge with high quality protect , water resistant, Flame resistant, wear resistant and scratch resistant.
Height adjustable design using gas cylinder from the largest company STABILUS of German.
Ergonomics and smart adjustment height has only one second via gas cylinder which has safety certification from German the largest company, STABILUS.
School bag hook design
Kids make a great habit, put their bag in both side of bag hook.
ABS stationery design in left and right side.
The both side of ABS stationery design in storage and material protect hit resistant.
Horizontal block and feet finger protection design
---
The desk base designs horizontal block making desk more stable. Style and material using can be protect children's feet finger hit and floor scratch resistant.
Freely desktop adjust in any of angles
---
Ergonomics tilting degree in reading, write and typing any position need. Patent keyboard design makes adjustable easy and one second finished.
Desk base make with carbon steel which stranger loading and stable
---
To double make desk stable using the double thickness steel in keyboard.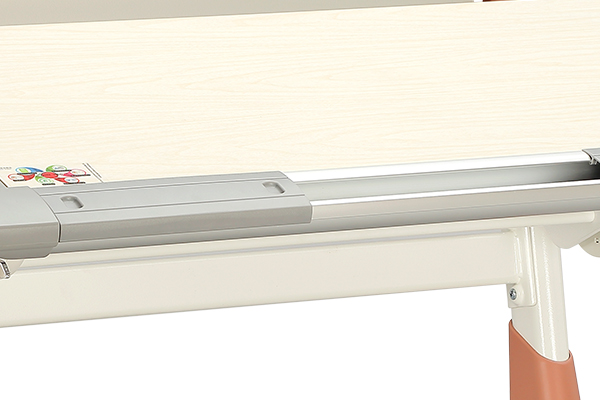 Storage designs by pretty aluminum material
---
The aluminum stationery tray with the ruler makes user's hand relax in front the desk and ruler can movable to use.
Model:TH333
Material:Gas cylinder, Laminate board
Table Color:Maple/Oak
Base Color:Grey
Size:W106*76cm
Height:41~76cm(+/-2cm)
Tiltingt:0~37degree(+/-2cm)
Origin:Taiwan