Designer definition is to sketch in the detail of children desk by "circle" .
Circle style shows mild feels also creates the comfort of learning space and successfully narrow the distance between desk and people.
Circle style design combines together with structure parts of product. It brings well visual effects when we used circle design to modify the rigid of quality.
M27 desk shares the study concept which is modesty as the starting point.
Maximum visual resolution- Circle Equation Desk
Barrow Neurological Institute found the dazzling degree and angle are in inverse proportion; Sharp angle is preserved salience more stronger than obtuse angle.
In the other words, Perceived exertion of vision is high when the shape of angle looks more attractive .
Strong impressions / Stereoscopic- Circle design
Designer used circle style to cover the shape angle of desk also brings harmonious atmosphere to users. Especially, the disc design of right and left side improve more stereoscopic of desk.
Edge made by high technical from Italy
Edge made by high technical from Italy, shows smooth feeling of desk same as high-class kitchen island.
low-key BUT elegant colorDesigner focus soft atmosphere on M27 desk. Base on this point, the Chromatology master finally found the " Morandi " color to match the designer's thinking and successfully increase the values of desk, also makes M27 desk become more attractive.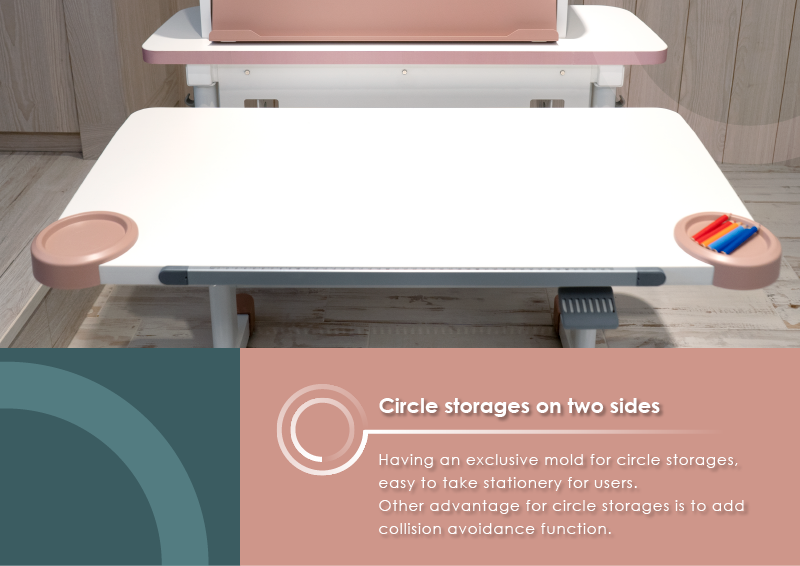 Circle storages on two sides
Having an exclusive mold for circle storages, easy to take stationery for users.
Other advantage for circle storages is to add collision avoidance function.
Semicircle plugs for desk base
Having an exclusive mold for Semicircle plugs, lovely style with protection function. Rectangle and square style were substituted by Semicircle style.
Middle space design for back desktop
Normal desks usually display against the wall.
M27 desk also has cable tray, users can put the wire or laptop or lamp in this middle space for friendly design.
One second height adjustment of M27 Circle Desk by Germany components
The height adjustment of M27 Circle Equation Desk keep the design which is using gas lift of Comfpro brand. Adjust desk height in one second with range 340mm. Applied for any children and university students figures because of the height ranges from 520mm to 860mm.
"One " tilting structure brings convenience!
Besides height adjustment of structure, the tilting operation has 0-36 degrees range, can be used for users. Also brings convenience when users adjust the operation handle which is set up near left side of desktop.
Thoughtful bag hooks
It is a sweet storage design to hanging school bag.
Secret memo board
M27 Circle Equation Desk designed the memo area at the middle of desk, it can be memo board or the magnets can be attracted onto a magnetic attraction board.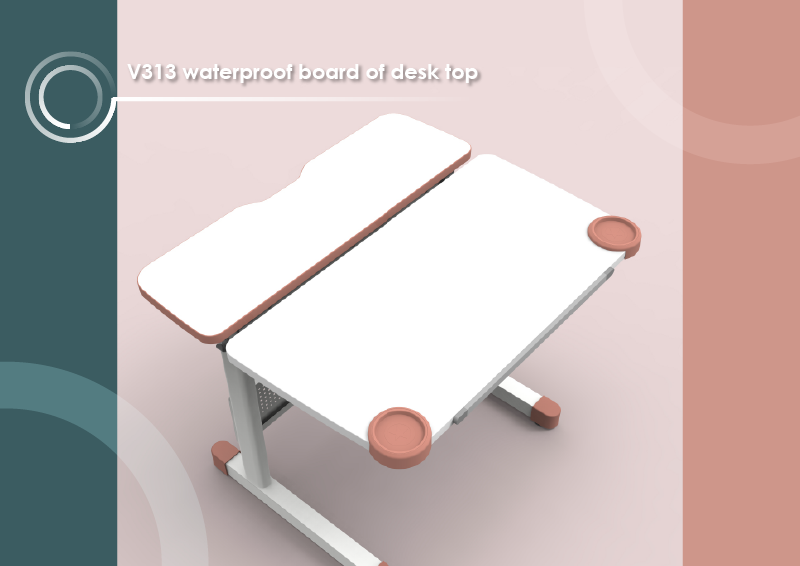 V313 waterproof board of desk top
Optional accessory- M27 bookshelf
There has includes movable panel which can set up book, iPhone or iPad.
And the panel design has a cable hole easy to connect.
The bottom of panel can hiding and outstretched.