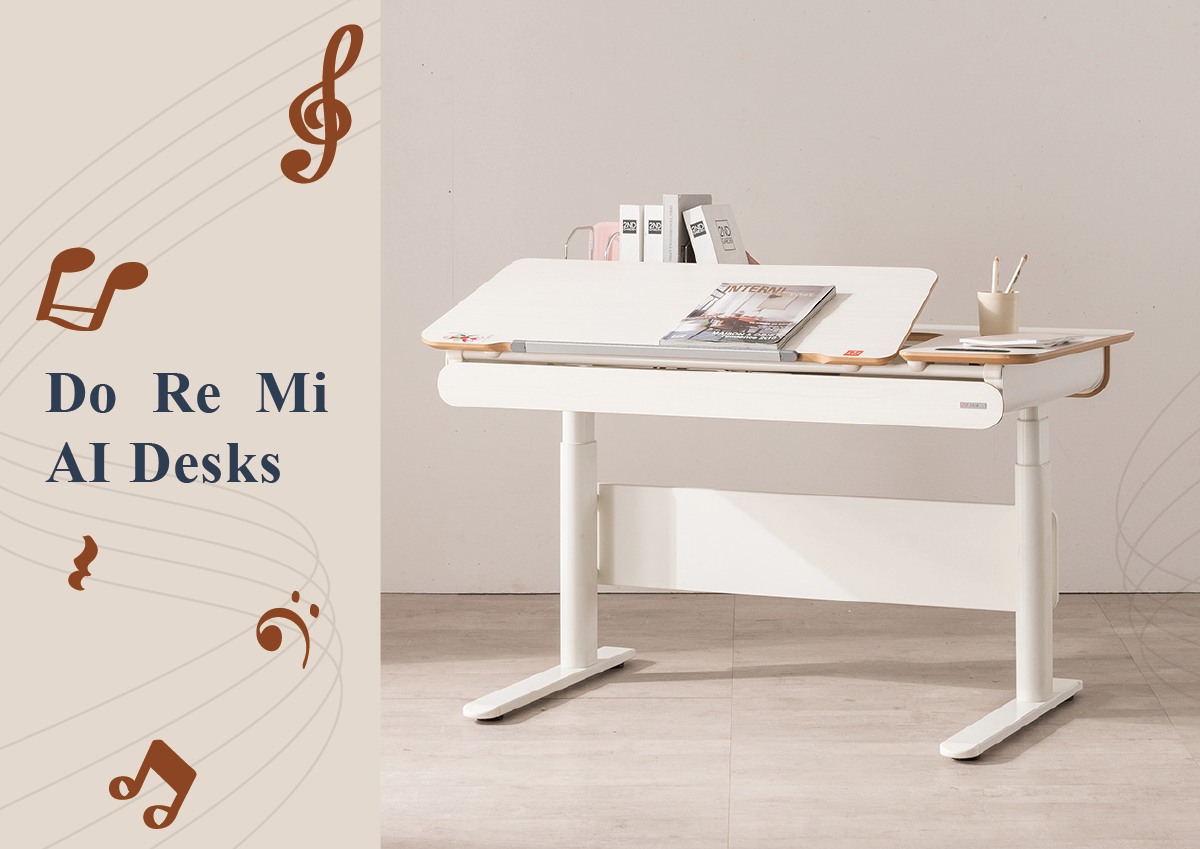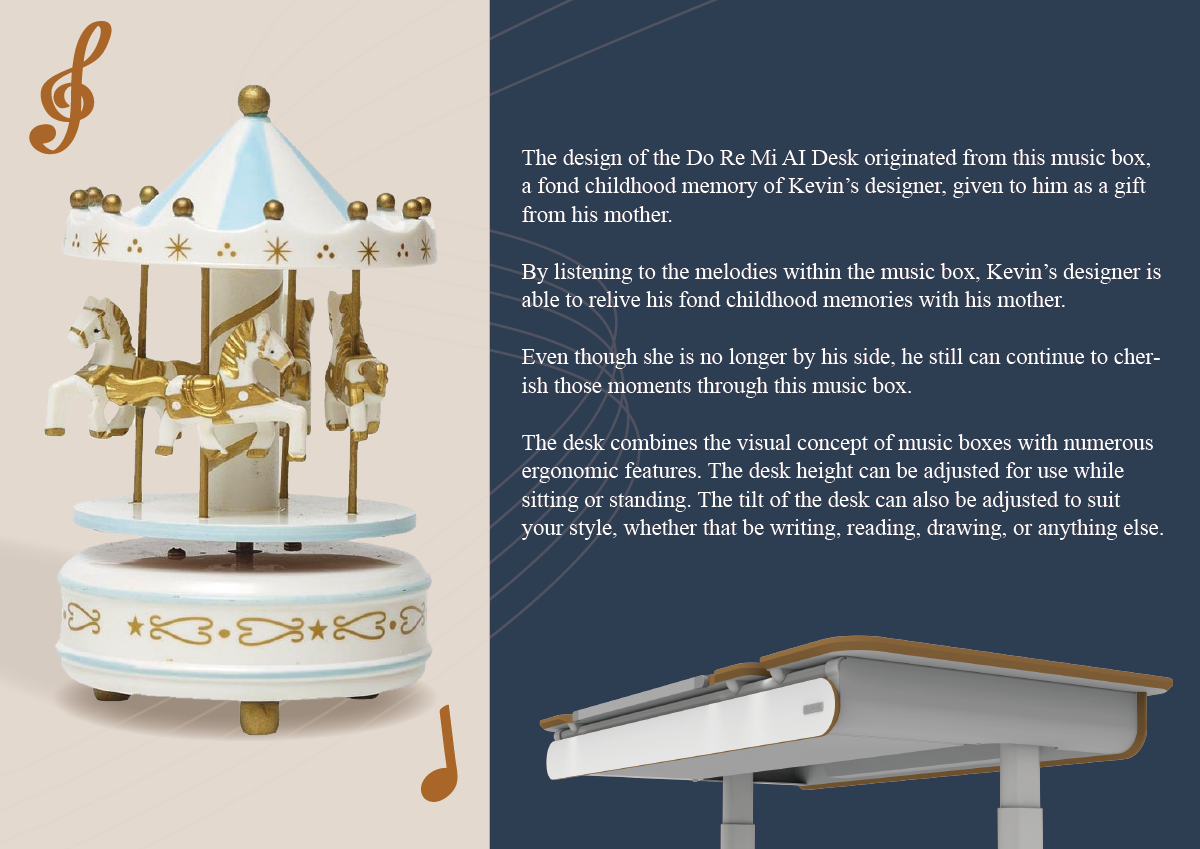 The design of the Do Re Mi AI Desk originated from this music box,a fond childhood memory of
Kevin's designer, given to him as a gift from his mother.

By listening to the melodies within the music box, Kevin's designer is able to relive his fond
childhood memories with his mother.

Even though she is no longer by his side, he still can continue to cherishthose moments through
this music box.

The desk combines the visual concept of music boxes with numerous ergonomic features. The
desk height can be adjusted for use while sitting or standing. The tilt of the desk can also be
adjusted to suit your style, whether that be writing, reading, drawing, or anything else.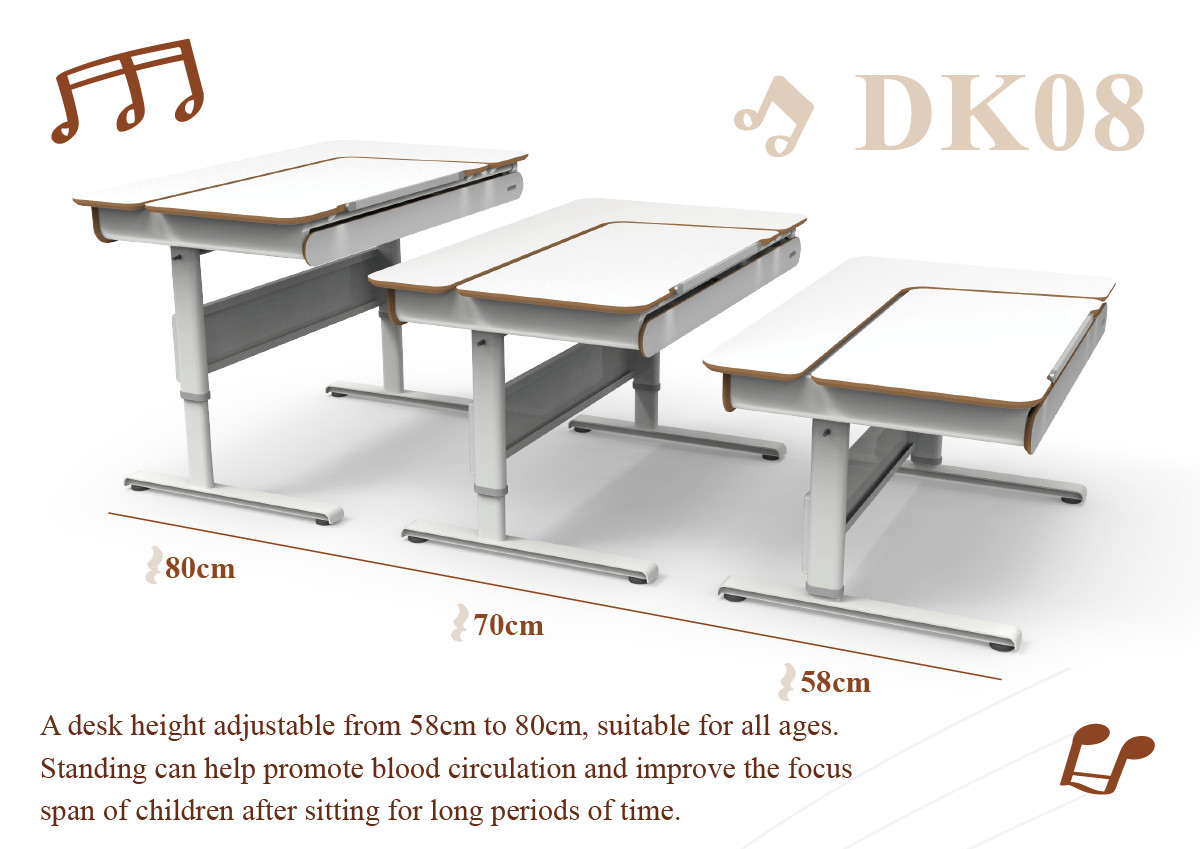 A desk height adjustable from 58cm to 80cm, suitable for all ages.
Standing can help promote blood circulation and improve the focus
span of children after sitting for long periods of time.
Simple crank to adjust height

Upgrade synchronous ballscrew ensures both the stability of the desk and easy height adjustment.
Adjustable desk tilt



The desktop can be pulled up to tilt at an angle most comfortable to you, up to 37 degrees.
Built-In Safety Buffer to Prevent Injuries

When reverting the desktop back to a level angle, a built-in buffer will slowly lower the desktop down
to prevent fingers from being pinched.
Scratch Resistant and Antibacterial desktop

Made with melamine, the desktop is scratch resistant and easy to clean.
Rounded corners

All corners are rounded to prevent injuries when bumped into.
Combined Desktop and Drawer Design

Through combining the mechanical system of the desktop and drawer, we've removed unnecessary assembly
complexities to provide a simple and harmonious all-in-one design.
A large built-in drawer to store all sorts of stationery.
Cable Tray

Used to organize and hide any cables and wires running underneath the desk.
DK08 Crank Desk

Dimension:1200 x 720mm
Height: 580-800mm (+/-20mm)
Tilting:0~37 (+/-1)